Welcome back to the My Favorite Things Olympic Village - we're so excited to have you joining us here for the fourth and final event of the MFT 2018 Creative Olympics!
Just like the Olympics, crafting brings people together. We can't wait to spend the next two weeks bringing the competition right to your home. Compete with your fellow cardmakers, feel pride in the cards you create in response to each event, and maybe even walk away from the 2018 Creative Olympics with a medal!
If you need some inspiration…some examples of grit, determination, and stamina as you tackle each event, turn on the PyeongChang games to watch as you compete — I know that's what we'll be doing in the weeks to come!
THE VENUES
We have a number of venues for you to visit over the course of this epic event. You'll find events and activities at each so make sure you visit them all — you don't want to miss a single event!
Olympic Stadium — Our main blog is your home base. You'll be able to participate in challenges shared February 9 and February 14, and our medal ceremony will be held there on February 22, as well.
Olympic Village — Our Challenge & Inspiration Blog will host two events as well, ending with today's. Make sure you check out the second event that was hosted here on February 12th.
Olympic Park — Meet up on our Facebook page to mix and mingle with fellow Olympians and participate in Q&As about your impressive training regimen.
THE MEDALS
It wouldn't be the Olympics without the iconic medals! We have a stash ready and waiting to be bestowed upon our event winners.
Gold medal: $100 MFT Voucher — One winner randomly selected from participants that complete all 4 events.
Silver medals: $50 MFT Voucher — One winner randomly selected from each event.
Bronze medals: $15 MFT Voucher — Winners randomly selected from Olympic Park Q&A events.
RULES & REGULATIONS
Create brand new/original cards. Previously posted cards will not be considered. There is no limit to the number of entries you submit for each event.
Use stamps, Die-namics, stencils, and patterned papers from My Favorite Things. Cards using other products will be disqualified immediately, so get creative with the MFT products that you have on hand! Use whatever card stock and inks you have available.
Submit your card(s) to the InLinkz collection found at the end (the finish line!) of each event post on or before 10 PM EST on Monday, February 19.
When submitting your card, please simply use your name in the Link Title section.
International entries are most DEFINITELY welcome!
All winners will be announced at our Closing Ceremony on Thursday, February 22, so make sure to check our main blog to see if you are one of our medalists!
EVENT4

The Speed Cardmaking event will push your creative limits to the edge and deliver speed and resilience that you didn't even know you had! Grab your phone, set your stove timer or have one of you family members watch the clock - you have exactly 20 minutes to complete a card from start to finish. It can be any theme and use any MFT products - this event is all about speed.
Stephanie created a winter themed card to correlate with the winter games and completed the event with 23 seconds to spare - take a look at this photo finish:
We caught up with her after the event to get her thoughts on how difficult it was and where she feels she could have improved. Here's what she had to say:
MFT Reporter: Was there any time during the creation of your card that you didn't think you were going to finish the event on time?
Stephanie: Absolutely! I started off at a really good pace, but as I stamped and die cut, I realized I had already lost 5 minutes, and I hadn't even started the coloring. I really had to focus and limit my color choices to save time.
MFT Reporter: Do you think you put too much pressure on yourself and attempted a card design that was a bit too difficult?
Stephanie: No, not at all. I really wanted to push myself creatively and I knew that attempting a design at an advanced level would make me work harder and push me to succeed.
MFT Reporter: Lastly, is there anything you would have done differently if you could do it over again?
Stephanie: Definitely be more prepared. I didn't have my supplies ready, and I ended up wasting time searching for card stock colors and basic supplies. I would definitely make sure I had a better game plan next time.
Thanks so much to Stephanie for taking some time to share her experience in the Speed Cardmaking event - here's a look at her final card design:
Supplies featured in today's card: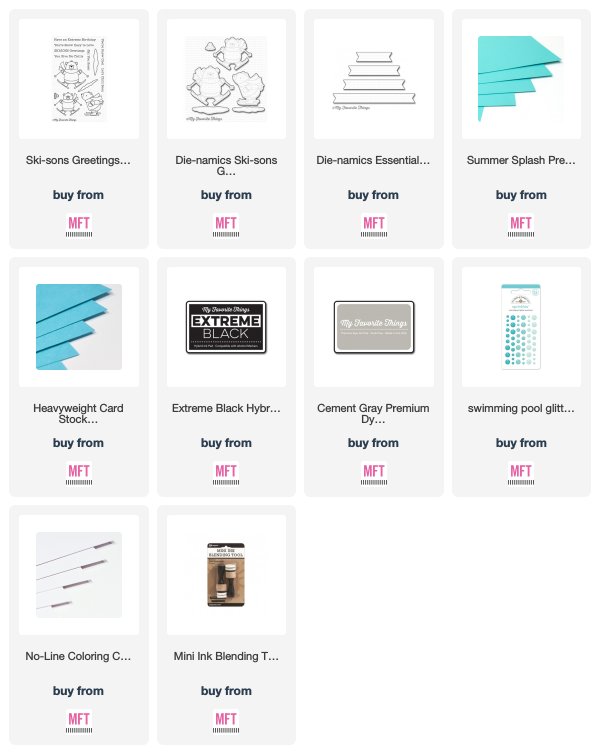 Are you ready to race the clock on your journey for the gold? On your marks, get set, GO.